Home
› Internship Showcase
Internship Showcase
S-CAR's First Internship Showcase: A Success!


When the doors opened for students to enter S-CAR's first ever Internship Showcase, there were over a dozen students, wearing more formal attire than they would on the average class day, anxiously waiting for the event to begin. After signing in and putting on name tags, students poured into the conference room for the opportunity to meet with representatives from various organizations to talk about one thing: internships.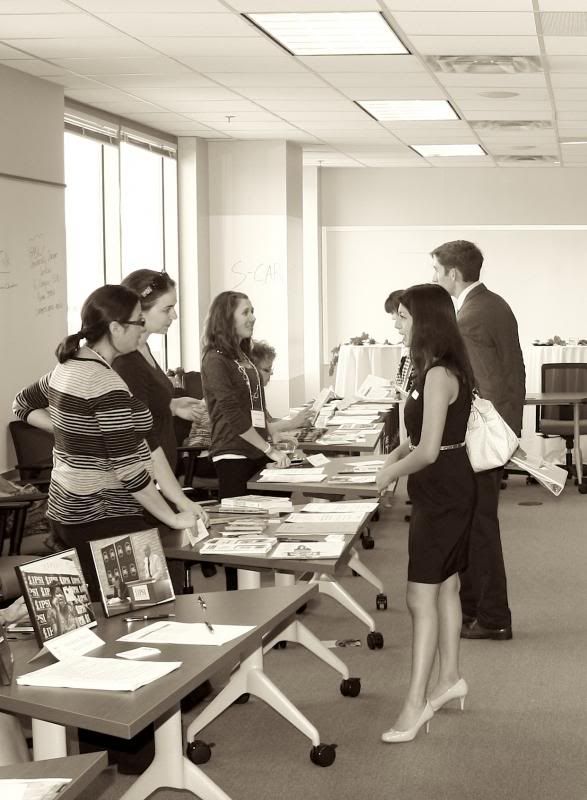 Tables attended by organization representatives lined the perimeter of the large conference room allowing students to walk around the room and browse the different organizations like an internship open house. Many organization representatives outfitted their tables with posters, handouts, and resources relating to their respective organization and relevant internship opportunities while some others utilized the dry-erase walls in the room, writing their organizations' name and some additional information on the walls behind their tables.
The energy in the room were contagious. Throughout the duration of the event, the room was brimming with the smiles and sounds of students and organization representatives engaged in conversation. Many enthusiastic students stopped by all of the different organizations' tables to learn about their organization and internship opportunities. Several organization representatives had lines of students waiting to speak with them!
The Internship Showcase was an idea put into motion by Lisa Shaw, Director of Field Experience, and Nathanael Lash, Field Experience Coordinator, with assistance from Mark Hardee, Student Services Coordinator, and Jane Walker, Assistant Director of Undergraduate Student Services. With the goal to raise awareness among S-CAR students of the many internship opportunities available in the greater Washington, DC area and a desire to foster stronger relationships between S-CAR and organizations relating to the CAR field, their efforts culminated in S-CAR's first ever Internship Showcase on Friday, October 4th in Conference Room 5183 in the Metropolitan Building at Mason's Arlington Campus.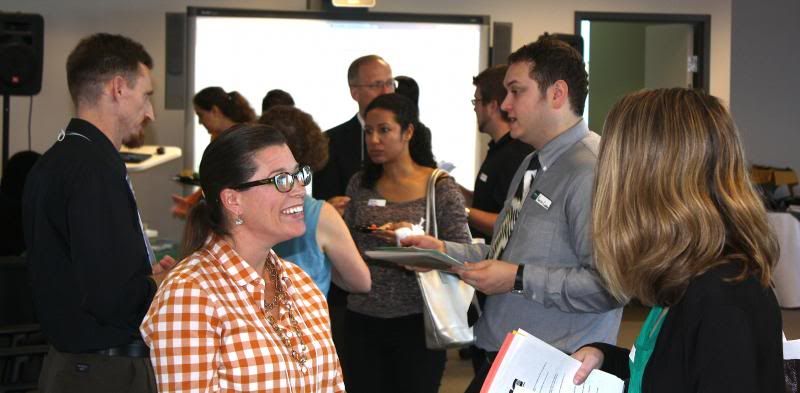 Dozens of organizations relating to Conflict Resolution, International Development, Advocacy, Education, Youth, Human Rights, Local, State, and Federal Government, and Mediation were invited to send representatives to the Showcase to meet with students and discuss the current and/or future opportunities at their respective organizations. Graduate and Undergraduate students from George Mason University as well as from American University's School of International Service, Georgetown University's School of Foreign Service, and George Washington University's Elliot School of International Affairs, were invited to attend at no cost.
While many students attended primarily to speak with
representatives from organizations relating to conflict resolution, the Internship Showcase provided students with much more. S-CAR's Field Experience staff were on hand to speak with students about the internship process and provided students with additional resources pertaining to internships and Jane Walker, Assistant Director of Undergraduate Student Services, assisted students with resume reviews. Each student was given an Internship Showcase Booklet that contains websites that post internships, information on where to get help with resumes, cover letters, and job searching, and organizations relating to conflict resolution listed by relevance to degree concentration. Appetizers were also served to meet the equally practical needs of our hungry students.
It is safe to say that by the end of the event, our goals were met and that both our students and the organizations that attended had a positive and enriching experience. S-CAR's first ever Internship Showcase was surely S-CAR's First Annual Internship Showcase.
The School for Conflict Analysis and Resolution would like to thank the following organizations for participating in its First Annual Internship Showcase:
Aiki Extensions

Booz Allen Hamilton

The Conflict Resolution Center of Montgomery County

Federal Deposit Insurance Corporation Office of the Ombudsman

Fairfax County Public Schools

George Mason University Office of the Ombudsman

International Peace and Security Institute

New Story Leadership

Northern Virginia Mediation Services

SchoolTalk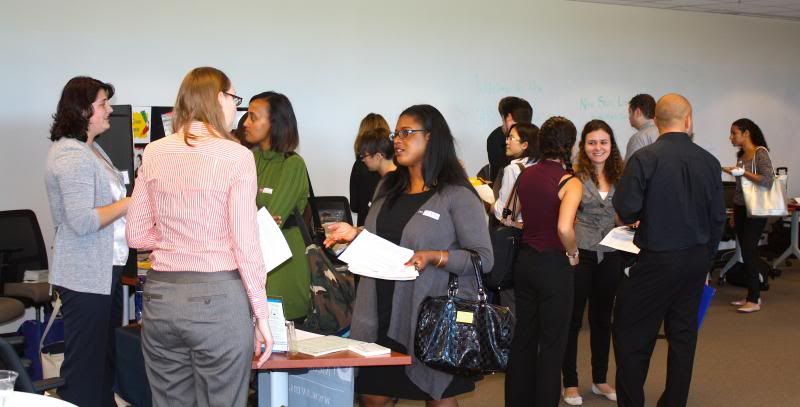 About Us
S-CAR is an innovative academic resource for people and institutions worldwide interested in developing processes for productive resolution of conflicts. It comprises a community of scholars, graduate students, alumni, practitioners, and organizations in the field of peace making and conflict resolution.
Degree Programs
BA, BS, MS, PhD, and Certificate in Conflict Analysis and Resolution

Career Development Connections
Internships
Sponsors of S-CAR interns benefit from the exceptional analytical and interpersonal skills of our students. Internships provide students with opportunities to incorporate their academic work and professional experience into the practice of conflict analysis and resolution.
Applied Practice and Theory Graduate Student Teams
Applied Practice and Theory (APT) teams are graduate student teams that work on a year-long project under the direction of a faculty member. Teams conduct both international and domestic projects: most recently with the FAA, Fairfax County Fire Department and the Dominican Republic. Generally the students will design the project and then complete it over the course of the year. Contact S-CAR Career Development for more information on having an APT team work on your project.
S-CAR/SPP Annual Graduate Career and Internship Fair
Sponsored by the School for Conflict Analysis and Resolution & School of Public Policy.
Arlington Campus, GMU, Founders Hall
There is no cost to Employers to participate.
Individual Referrals
The close-knit community at S-CAR allows Career Services staff to know our students individually. If you are looking to fill a position, contact our staff for referrals of students or alumni who might be a good fit.
Career/Organization Presentations
We invite you to participate in S-CAR's monthly career and organization presentations. These events allow S-CAR students and alumni to find out about your organization and opportunities within it, as well as providing you a chance to meet potential employees or interns.
On-Campus Interviews
Employers can schedule on campus interviews/screening for potential employees at S-CAR. Contact S-CAR Career Services to schedule a date.
Job/Internship Postings
To share job and internship announcements with S-CAR students, feel free to send them to ugradcar@gmu.edu.

George Mason University Career Services
Post jobs for Mason students only by registering on HireMason

If you would like your organization represented at a future career related event at S-CAR,
please contact us!
S-CAR Graduate Program
Jackie Finch
Career and Academic Advisor
jfinch4@gmu.edu
703-993-1716

S-CAR Undergraduate Program
Nathanael Lash
Field Experience Coordinator
nlash@gmu.edu
703-993-4165